Is Global Warming real? Are greenhouse gasses causing it? More importantly Is it a real threat to our civilization as the movie The Day After and An Inconvenient Truth depict?
Al Gore, fresh from an appearance at the Cannes film festival introducing his film An Inconvenient Truth, delivered a starker message that the world was now facing a "danger which could bring the end of civilization."
What Does the Bible Say About Global Warming?
Does the Bible give us any insight into this alleged threat that Al Gore has made about whether the end of civilization will come? Actually the only mention of global warming is found in Revelation 15-16 where the seven bowl judgements cause the Sun to scorch men. This is right prior to the Battle of Armageddon and it does not last more than a few days.
In the end, the Bible does not indicate enough time before the End of the Age for gradual global warming to become a major factor, assuming that it even is happening yet. Fortunately or unfortunately, it will be preempted by other events, such as Wormwood and WWIII.
Article continues below...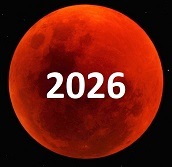 The End In 2026? It's Now Possible
Since learning in 2001 that Yeshua must return in a Sabbath year, I've had to rule out three Sabbath year cycle windows for the final 7 years (2003-2009, 2010-2016, 2017-2023). With the next window (2024-2030) less than 7 years away, I'm ready to share why I believe, based on the real end time sign of Mt 24:14, that this can be the one. If it is, the "birth pains" (WW3 + Wormwood, Lk 21:10-11) would hit near its middle in 2026 with Yeshua returning in 2030. Find out what's changed to convince me about 2026 and what you can do about it... [7]