Jesus' disciples asked him the very question that every Christian still wonders today: how do we know when you're coming back? Amazingly, Jesus answered by giving the actual "signs of his coming and the end of the age." He didn't refuse! We can read his straightforward answer in Matthew, Mark and Luke. Yet Christians don't understand his answer as evidenced by how they fall for every speculative counterfeit end time sign theory hatched by Christian prophecy theorists in its place. Find out what you've been missing in Jesus' answer so you understand the real signs of his coming and never have to fall for another false prophecy theory again.
Continue reading >
119 Ministries is the Hebrew Roots ministry of Jon Sherman and Steve Moutria. They teach Bible prophecy including the four blood moons theory in their Daniel Unsealed video. As with other Hebrew Roots groups, many Christians consider 119 ministries a cult.
Continue reading >
Do you get grief from other Christians when they find out you like Bible prophecy? Do they try to convince you to stop studying it, to save you from "deception?" Join the club. Bible prophecy is not popular with most Christians for several reasons which they will be sure to share with you. Learn what these common objections are and how to answer them–if not for their sake at least for your own satisfaction. Be certain you're doing nothing wrong to study prophecy which is actually something encouraged in the Bible.
Continue reading >
Does John Hagee's book on the four blood moon prophecy help you understand the biblical significance of the 2014-2015 tetrad? Considering that the first 170 pages of "Four Blood Moons: Something Is About To Change" is background material on prophecy, Israel in Scripture and history with only 24 pages on the coming tetrad, that's a fair question. Here's my review to help you evaluate the book and its ideas.
Continue reading >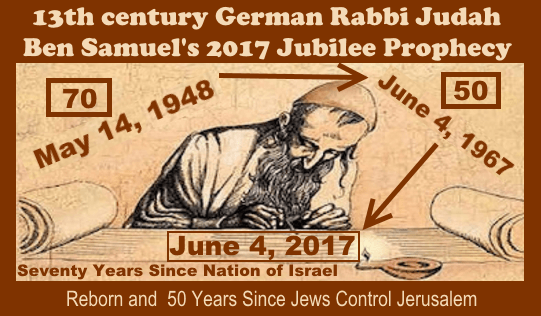 Rabbi Judah ben Samuel supposedly made an amazing prophecy concerning the future of Jerusalem that already has three accurate fulfillments from 1517-1967. The prophecy further predicts the start of the "Messianic end time" by 2017. But is the prophecy trustworthy and can Jesus even return in 2017? Read on to learn why how people interpret and use this prophecy is flawed. Also, what did Jesus himself reveal as the signs of his coming to watch for…instead of date watching?
Continue reading >
John Hagee is the founder of John Hagee Ministries. Hagee jumped on the four blood moons bandwagon in 2012 and 2013 with a book, DVD and even a T-shirt on it.
Continue reading >
Mark Biltz is the pastor of El Shaddai Ministries in Tacoma, Washington, a Hebrew Roots congregation. Mark is known for his 2008 theory on the four blood moons or tetrad of 2014-2015 that made a resurgence in 2013. He is also the author of Blood Moons: Decoding the Imminent Heavenly Signs.
Continue reading >
Do you have friends who bother you with the latest conspiracy theories from YouTube or fringe "insider" websites? Do they leave you worried? If you're online looking for Bible prophecy understanding, it's impossible to escape scary conspiracy theories, even some that sound similar to what you read in Bible prophecy. But has end time Bible prophecy begun as the conspiracies seem to prove? Are predictions based on conspiracy theories reliable? Learn why conspiracy theories are not the way God is going to wake up the world, and what Bible prophecy says is his way so you can stop worrying about conspiracy theories.
Continue reading >
We study Bible prophecy expecting to understand what's going to happen along with hopefully some idea of when. Yet along the way, there are several discoveries you won't expect or maybe prefer not to find. For example, God's special place to protect us from the Great Tribulation is not in heaven and how we get there takes a bit more than professing Jesus. Disappointing, for some, is the constant failure of date setters. Yet there are still good timing clues available, enough to raise the prospect of having to wait way longer for the Second Coming than anyone dreamed. Perhaps most surprising is why it's OK if you don't study (or understand) Bible prophecy at all?
Continue reading >
Everyone knows there are 365¼ days in a year—except, seemingly, the Bible… In both Genesis and Revelation, there are 360 days in a year and 30 days in all months. You won't find the 365¼ day year and alternating 29 and 30 day lunar months we see today. Does this mean the Bible is an inaccurate book (as skeptics believe)? Not in the least. Read on to find out the little-known calendar secret of ancient history from Genesis and also Revelation's hidden prophecy about earth's change to a 360 day year because of a global catastrophe—before the rapture.
Continue reading >
Page 11 of 19