Is Global Warming real? Are greenhouse gasses causing it? More importantly Is it a real threat to our civilization as the movie The Day After and An Inconvenient Truth depict?
Continue reading >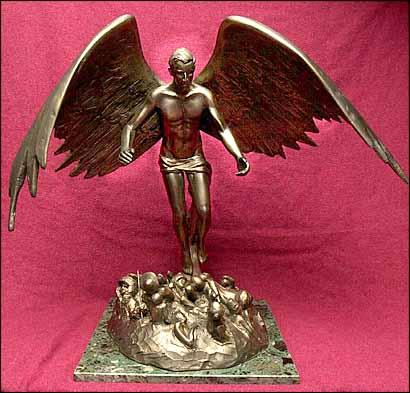 Although the average Christian wouldn't know an "abomination of desolation" even if it came up and bit them in the rear, Jesus gave important end time survival instructions for "when you see the abomination." This cryptic phrase describes the key event that immediately precedes the Great Tribulation and is the last chance to flee to safety from the Antichrist. Nevertheless, people continue to disagree on what the abomination of desolation is or even whether it is past or future! Find out why it's not the Dome of the Rock or any past event, and what exactly Revelation says it will be.
Continue reading >
The Bible describes a future one world government leader ruling for the last 42 months of these End Times. He should be alive today. Does Revelation 13's clues including 666 identify him as Prince Charles of Wales? Find out in this article written by Monte Judah.
Continue reading >
Well Jeff J.R. Nyquist is not a Bible teacher, but what he says about Russia is key in order to understand End Times Bible Prophecy.
Continue reading >
Preterism holds that prophecies such as the destruction of Jerusalem, the Antichrist, the Great Tribulation, and the Day of the Lord were fulfilled AD 70 when the Roman general Titus sacked Jerusalem and destroyed the Jewish Temple. Can you see what's wrong with this picture?
Continue reading >
Which Christ confirms the covenant in Daniel 9:27 for seven years, Jesus or Antichrist? And who is this covenant made with that is only described as "the many?" Is it the Jews or someone else?
Continue reading >
Michael Boldea had a dream in December 2005 of a great shaking coming to America that is so powerful it collapses the Golden Gate Bridge. Does it fit with Bible prophecy?
Continue reading >
If you want to understand Bible prophecy, you need to develop a certain mindset, the same mindset that self-made millionaires tend to possess. A lesson from history's greatest fighter pilot and millionaires today illustrates it.
Continue reading >
Michael Rood is the Messianic Jewish / Hebrew Roots Bible teacher and author who popularized the Agricultural Biblical Calendar of the Karaites and the Prophetic Feasts of the LORD. He is also known for the Jonah Code and Chronological Gospels book. If you can handle his controversial "rude" style, you will learn much about the Bible that they do not teach in church.
Continue reading >
Page 15 of 19