Ministry of Stan Johnson which has a daily radio show and offers books and videos on End Times and Bible Prophecy. Check out the link below for the daily show archive
Bible prophecy teachers the Prophecy Club offers videos of include his first speaker Dimitru Duduman, his grandson Michael Bodea Jr., Michael Rood of A Rood Awakening, Ron Wyatt who discovered Noah's Ark, Benjamin Baruch of the Day of the Lord is at Hand, Bill Schnoebelen and geopolitcal commentator Jeff Nyquist about the coming war with Russia.
Article continues below...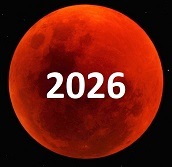 The End In 2026? It's Now Possible
Since learning in 2001 that Yeshua must return in a Sabbath year, I've had to rule out three Sabbath year cycle windows for the final 7 years (2003-2009, 2010-2016, 2017-2023). With the next window (2024-2030) less than 7 years away, I'm ready to share why I believe, based on the real end time sign of Mt 24:14, that this can be the one. If it is, the "birth pains" (WW3 + Wormwood, Lk 21:10-11) would hit near its middle in 2026 with Yeshua returning in 2030. Find out what's changed to convince me about 2026 and what you can do about it...
Receive Tim's Prophecy Updates By Email
Join 30,000 subscribers receiving Tim's new articles and updates by email. Understanding Bible prophecy better will dispel your end time fear and bless you (Rev 1:3).
Tim McHyde
Tim is the author of this site (since 1999) and the book Know the Future that explains Revelation literally at last--including the key event of Wormwood (Rev 6-8). To read more from Tim and not miss a single new article, sign up for his free newsletter above.
1comment
Click here to add a comment
Leave a comment:
---