Best known for his definitive work, The Antichrist and a Cup of Tea, he offers other prophecy teaching materials such as the Real Rapture.
Tim Cohen's The Antichrist and a Cup of Tea is one of the few "must have" prophecy books that I can still recommend. It uses the all-important literal interpretation method for Revelation 13 to determine who today is the leading and really only candidate for the Antichrist or Beast.
I have not read the Real Rapture yet but I'm sure it teaches the problems with the allegory-based pretribulation rapture doctrine, just as I cover in my teaching here on Revelation 8's Wormwood of the third trumpet.
Article continues below...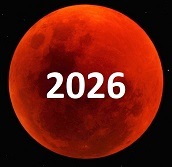 The End In 2026? It's Now Possible
Since learning in 2001 that Yeshua must return in a Sabbath year, I've had to rule out three Sabbath year cycle windows for the final 7 years (2003-2009, 2010-2016, 2017-2023). With the next window (2024-2030) less than 7 years away, I'm ready to share why I believe, based on the real end time sign of Mt 24:14, that this can be the one. If it is, the "birth pains" (WW3 + Wormwood, Lk 21:10-11) would hit near its middle in 2026 with Yeshua returning in 2030. Find out what's changed to convince me about 2026 and what you can do about it... [7]